My Favorite and CHEAP Planner for Project Based Designers
I've been using this planner for 20+ years. Here's the story.
I'm a visual planner. Most of us who are visual creatives usually are. We like to see HOW things work together, we like to see how the flow of work is distributed in a visual sense. I can guarantee you that most of us are frustrated with the calendars and what-not that you find at any larger store. The implication of those calendars is that you have specific things to go-to or do that day. Maybe it's job related, maybe it's personal, but usually it's only organized by time, or day not category.
I was super lucky - the school I went to from N-12 had a planner they taught us to use from about 7th grade on. We had a similar one for 6th grade, but the 7th graders got the "big planner". I'd seen versions of this planner growing up, my mom taught at the school I went to, so her green version of the planner was for teachers and included grading charts (now it's all digital). But that blue planner, it stuck with me.
That blue planner stuck with us through high school. It was what we were taught to use, so most of us strictly used this method we had learned. About half of us if not more were part of the school from 7th grade on, so it felt familiar.
What's so special about this planner?
It wasn't until I went to college that I realized how special that planner really was. I was given this school planner at Rice University and it had around five lines of text to add in your daily notes. FIVE LINES. Um hi, that barely fit my social schedule let alone hw or school needs. It was maybe three weeks into school and I said to my mom "I need you to send me a blue planner".
What's so special about the blue planner? It's based on the idea that you have multiple subjects that you need daily plans/lists for. It's a large grid. The Elan planners all have period based row or column, and a date based row/column. You can orient them either way, and choose a few options for your periods - five, six or eight periods. The best part is that there are no labels. You can write it all in yourself. Including the date. They give you a five day + 1 layout for days. Meaning you can do monday-friday plus weekend, or adjust for what you need. I do mon-friday + weekly goal for client columns, and weekend plans on my personal section. Let's show you visually cause it helps a ton.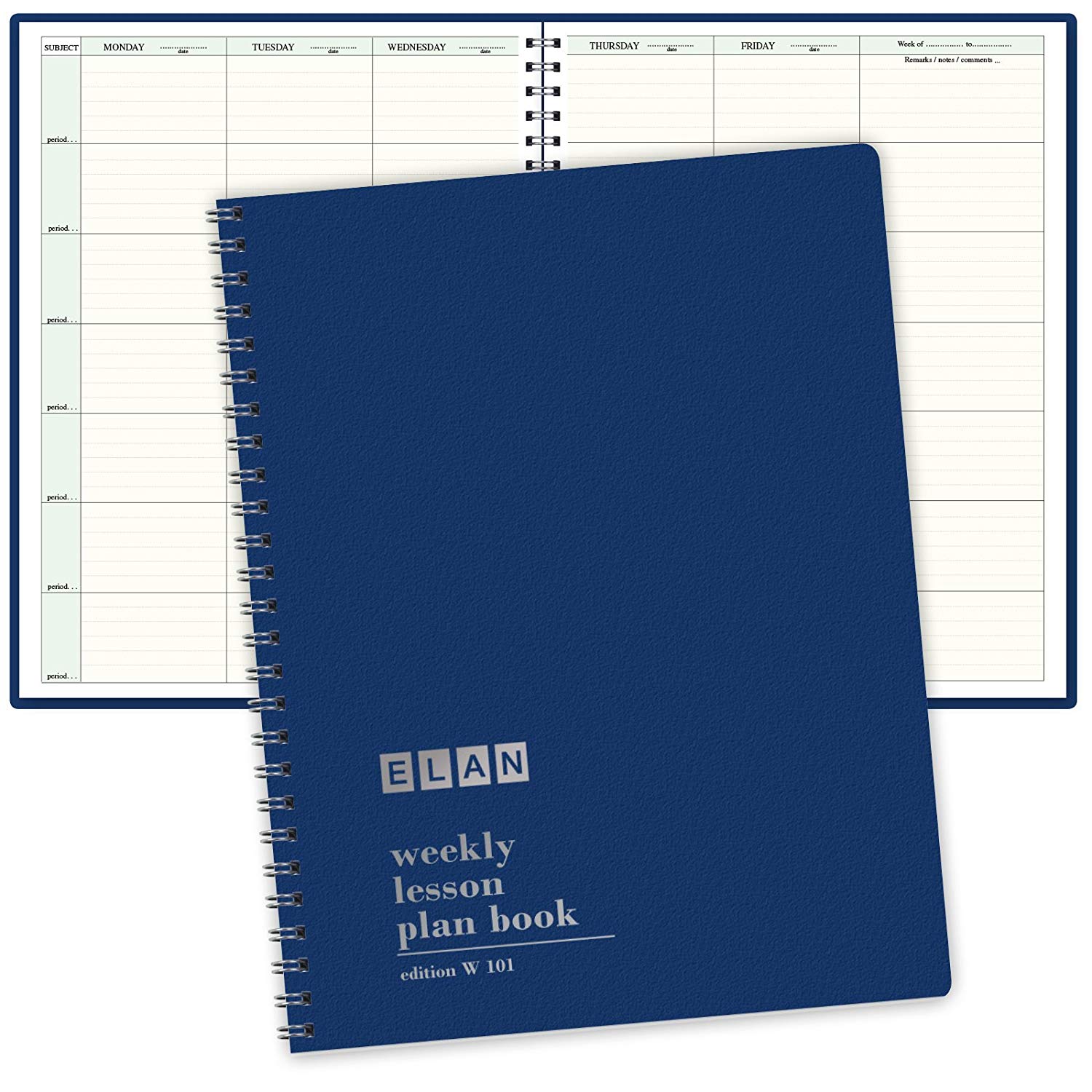 ELAN PLANNER - w101 Edition
This edition has seven "subjects" and a horizontal layout, meaning the days of the week go across the top of the planner. Depending on which layout and how many subjects you want you can find other versions of this planner. I like seven, it allows for a Studio Column (inquiries, invoices etc), a few clients + a personal column and one for SSDG :)
About this planner specifically:
—> A few things here esp. about the listing - it shows about 6 pages of "layout types" but the other layouts are just a few pages in the very beginning of the planner. It's 98% plain old planner pages, you can easily skip, tear out or adjust those pages to work for you. I've never even been bothered by them. We all used this exact planner in school - and everyone skips those pages.
A few of the other versions of this planner.
Note: There are a few other colors, but they don't hit the $9.00-$12.00 USD mark for pricing, they are more in the $20 dollar area, there's a marble, bright colors and they are hardcover vs. softcover.
Let's talk about how "pretty" this planner is. It's not. Sorry Elan, when you are talking to the audience of us who comb the shelves of target and online retailers like Appointed to buy notebooks, this is kind-of a step down, but let me tell you it's worth it. If you are like me, you use the planner for 8 weeks straight during your busy season and then put it down, and then pick it up a month later, and feel like you wasted so much of it. But since you are adding your own dates, it doesn't matter here! PLUS the price point is one-million times better than anything else. It's cheap enough you can "just try it" - it's that "eh, just add that to my cart" pricing on Amazon.
I tried to design a better version of this planner.
I can tell you that I spent three weeks designing and scoping out pricing for my own version of this, I wanted hardcover + spiral + prettier paper, plus better typography and I contacted high-end printers, cheap printers and I can tell you, that it wasn't worth a time of my time. Why break something that isn't broken, this is all about function, and the beauty of this planner is that when you mess up, you rip out the page and not worry to much because it's just one page. By the way, the prices I got were $20+ for the cheap printers if I were to upfront pay for hundreds of these planners I had designed, granted I had some charts that do income planning and prep for specifically project-based freelancers (not just designers) and some other calendar dates mixed in to help out, but it would mean that pricing for customers was in the $40+ range, and it's just not as perfect of a planner when you spend so much on it. Plus if you wanted the thicker paper, the nice linen covers, it went up a TON more in price, and I wasn't trying to start a new business, just figure out a prettier version of what I had been using for the last 20 years. It worked for 20+ years of my life, and it's less than $10. If they told me Elan Publishing was going out of business tomorrow, I'd buy 30+ of these guys. I'd even consider buying more for my potential future children's school days if I thought that education included hw in the future (PS. talk to teachers, you will learn it won't include hw as we traditionally know it).
What's the conclusion?
I tried the other planners, attempted to build others, and consistently went back to the Blue Planner that I have been using since I was 12 or 13. That's TWENTY YEARS of my life. Shit, now you know my age as well … but if it helps you and your business keep things visually organized without spending a fortune, I don't mind all that much.