The First Year: Mastermind Recap
We are celebrating our first year of offering our signature mastermind seminar. It's been such a great year, so let's go over our first year recap.
June 2018
Last May/June I was itchy to be creative, so I started just designing one day. Designing for the client I wish I had. (it was a garden website since I was itchy to have my own garden). So I just started. About halfway through I realized that this kind of project could be useful for more than just myself. In reflecting on our first mockup to reality workshop from a few years ago, I decided to create another one.
We did a 3 page website from beginning to end in a one day zoom call. We had designers that joined in and kept it on in the background while doing their normal day to day routine, that little insight into how other people implemented and designed from scratch is so fascinating.
It was then that I realized we needed something like this within the design community that really let people get their hands dirty, not just listen to a lecture and hopefully implement the solution within due time…
July 2018
Our first mastermind started in July, I kept the price point low for our early testers, so I could adjust a few things along the way. I loved every moment. Our mastermind combined the process course from way back ssdg (which is currently a retired course), and community and that essence of learning that can only happen by DOING. On top of that, I integrated one-one weekly feedback to really allow the course to not just be a group project, but allow students to have a goal each week, and then have a personal project they work on.
The first round was scary, how do you know if it's the right thing? Is it enough feedback? Is it critical enough? I watched the first round "lecture" or meetings 2-3 times before the next session. What I learned was that the combination of "on the fly" and "lecture based" learning was what worked. We would go over a topic, go into the explanation or an example of the item, and then jump into questions and answer/go through them or solve a similar problem on the fly. That spontaneity actually brought problem solving to the table - which I do think is crazy valuable. It's what we do right? We are problem solvers, mixed with good knowledge of web strategy and the platform you work on, the main job of a freelancer is to solve all the problems.
September 2018
When I launched mastermind in the summer, I did a super soft-launch, not creating a full website/sales page for the site as of yet. I knew however, that we had 10+ people that were excited for a fall session. Because I launched so quickly, there were a ton of students who didn't get to join in on round one because of summer plans and vacations, so our fall session filled up so fast, I basically fell on the floor with shock. There's something about doing homework in fall that just fits. I even went to target and bought a new notebook for my class notes. (turns out by the way that fall isn't the right time to buy school supplies anymore? lol, didn't realize that july and august are now the new september?).
Winter 2019
I was actually not sure about holding winter mastermind as I had done mastermind for 7 weeks in the summer and 7 weeks in the fall, and I was unsure if it was going to be the right time, maybe we needed more build up time? Nope, we had our largest signups yet - even without offering the audits!
With this round I also decided to do the project right alongside my students, which was so great. It allowed me to showcase work, without it being client work, and show the same steps as the students, esp. in the beginning. I think I'll continue this (and this is where I'm going to be starting our next template design). The project from winter turned into The Cecily, so it's a great method to make yourself work on a self-biz project.
For winter, we made one big change, which was to add in bonuses right into the course - so you would get access to them right away (a few of our courses + a few extras) as well as adding one week to the process. The modules didn't change, but the graphics and branding started to look more "meg", and that extra break week was tremendous for the students. We had more students finish their project by the end of the modules, instead of having not enough time in implementation to get it all done.
Summer 2019
For summer 2019 one thing changed, I took away the audits. I didn't plan to originally, but honestly the camaraderie of the tuesday courses was just less active in the larger group for winter. Probably because it was a larger group, so back to 12-14max students.
We also took the branding that I introduced for winter 2019 into SSDG's main site, and it fits so much more into my own design style. I think it fits our overall brand much better! The Mastermind Winter group got to preview this new direction and let us test it out :)
Overall our first year
Since last summer, we have worked with 45+ designers on their projects, and I know that our method not only works, but is FUN because we have had so many people coming back for more. How could you not? You get to really dig into YOUR own goals with the project, which is crazy valuable.
A few testimonials from clients - and some sites they designed!
"Taking this course is one of the best decisions I've ever made. Meg goes above and beyond for her students and the level and quality of her personalized feedback is incredible. I feel like I've received so much more than my money's worth. Not only have I learned a number of amazing CSS tricks but I have a much better understanding of the underlying structure of Squarespace, which will be enormously helpful when I try to figure out new things on my own. Above all, this course gave me a huge boost of confidence in my own abilities and I feel like I'm coming out of it a much stronger designer than I was going in."
Kate also wrote a blog post where she discusses how Mastermind helped her find her design bliss!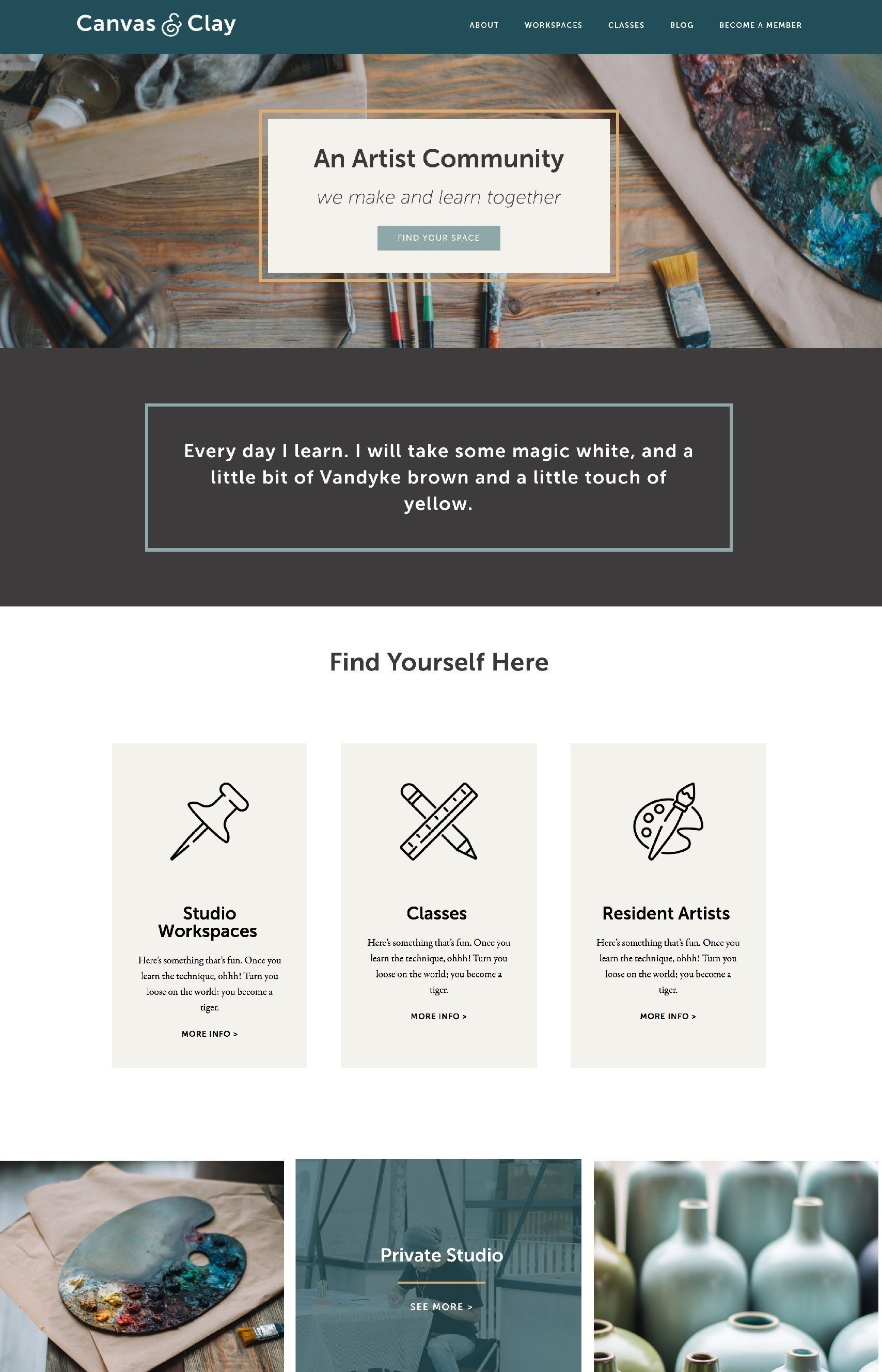 I loved this class so much. I've learned so much and have really built my confidence as a designer and made some new friends too! The teaching style was the a perfect mix of leading, independence, and feedback. I cannot thank you enough for your time spent on this with us and I'm so proud of my final result. And to the person on the fence, but just do it, you'll be thankful and it'll pay for itself!
Jennifer created a template which is fabulous for artists and creative studios. Check it out!